The ever-evolving ways that we interact with each other, our world, and our selves through technology is a topic as worn as the devices we clutch and carry everyday. How did we get here? Drawing from the disciplines of media ecology and media archaeology, as well as bringing fresh perspectives from subcultures of music and skateboarding, The Medium Picture illuminates aspects of technological mediation that have been overlooked along the way. With a Foreword by Andrew McLuhan, it shows how immersion in unmoored technologies of connectivity finds us in a world of pure media and redefines who we are, how we are, and what we will be.
The Medium Picture is forthcoming.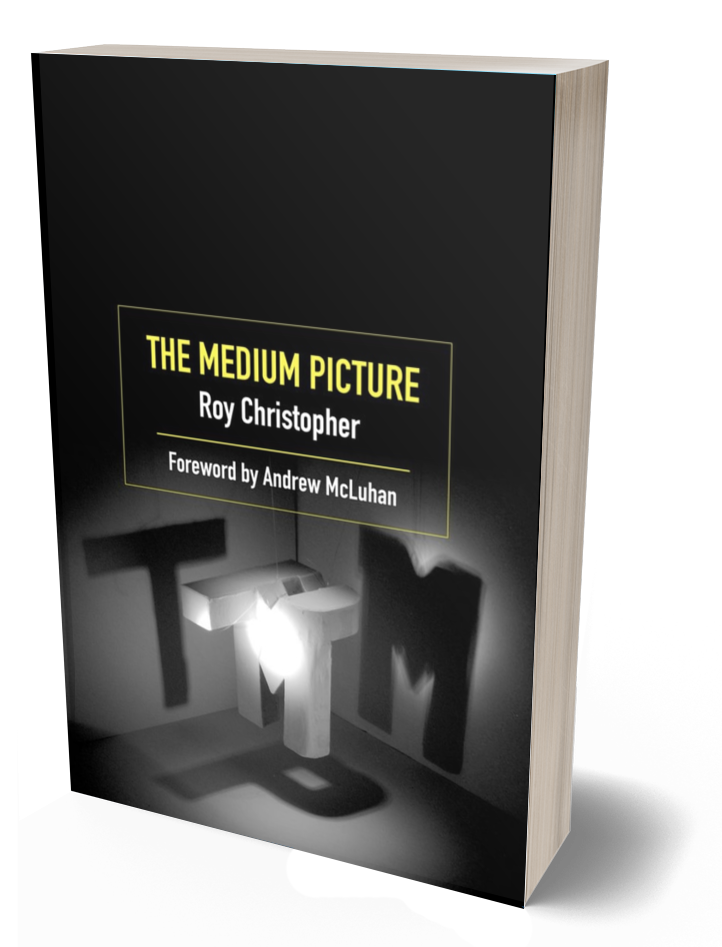 "Like a skateboarder repurposing the utilitarian textures of the urban terrain for sport, Roy Christopher reclaims the content and technologies of the media environment as a landscape to be navigated and explored. The Medium Picture is both a highly personal yet revelatory chronicle of a decades-long encounter with mediated popular culture."
Douglas Rushkoff, author, Team Human
"Immersed in the contemporary digital culture he grew up with as a teenager, Roy Christopher is old enough to recall vinyl, punk, and zines — social media before TikTok and smartphones. The Medium Picture deftly illuminates the connections between post-punk music critique, the increasing virtualization of culture, the history of formal media theory, the liminal zones of analog vs digital, pop vs high culture, capitalism vs anarchy. It's the kind of book that makes you stop and think and scribble in the margins."
Howard Rheingold, author, Net Smart
"What we need is a parkour for the Interzone triangulated by 'street' culture, the poets laureate of digital disruption, and the hairier fringes of academic discourse. If anybody's going to take a crack at it, Roy Christopher—certified skaterboy, Ph.D. in Communication Studies, fractal geometer tracing the coastlines of subcultural thought—is that thinker."
Mark Dery, author, Born to be Posthumous
"Imagine if Walter Benjamin had made it out of Spain, finally arrived in America, and got a BMX bike while listening to hip-hop. Roy Christopher is not only telling us how culture works, and why we love it, but also what we can do with it."
Etienne Turpin, co-founder, anexact office
"Brilliant, pathbreaking, palpable insights… Worthy of McLuhan."
Paul Levinson, author, New New Media
"If the medium is the message, then today's mediascape is a constant digital missive, reminding us that we are trapped together in a seven-level underworld metaverse mall. Who better to help guide us through this neo-Dantesque pixel inferno than Roy Christopher—one part Virgil, one part Debord, and at least one part his mischievous and brilliant self."
Dominic Pettman, author, Peak Libido
"Through music, generational habits, pre- and post-internet cultures, and a multitude of 'cognitive entanglements', this book flows with grace across different scales of mediation and affect."
Jussi Parikka, author, A Geology of Media
"This book looks wonderful!"
Laurie Anderson
ABOUT THE AUTHOR:
I marshal the middle between Mathers and McLuhan.
I'm an aging BMX and skateboarding zine kid. That's where I learned to turn events and interviews into pages with staples. I have since written about music, media, and culture for everything from books and blogs to national magazines and academic journals. My previous books include Dead Precedents (Repeater, 2019), Boogie Down Predictions (Strange Attractor, 2022), and Escape Philosophy (punctum, 2022), among others. I hold a Ph.D. in Communication Studies from the University of Texas at Austin. As a child, I solved the Rubik's Cube competitively.